The Lordship and Manor of Rushton or Rushton James (Staffordshire)

The Letters Patent issued to Martin S. J. Goldstraw by The College of Arms.
The armorial bearings of Martin S. J. Goldstraw (Scottish verion)
including neck collar and pennon.
Artist Ljubodrag Grujic.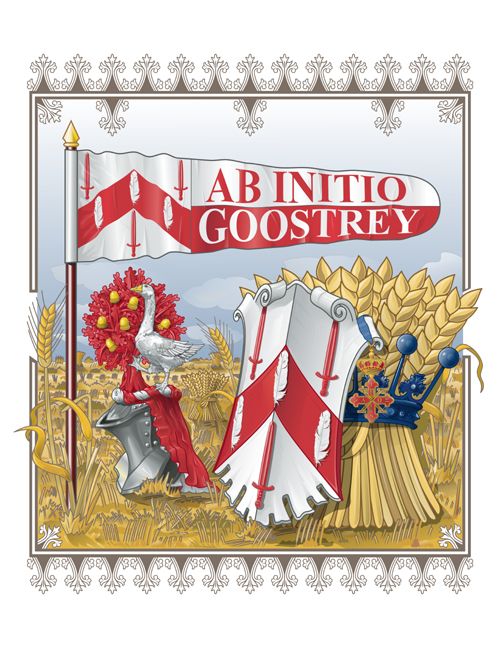 Bookplate (also produced in monochrome)
The viewer is looking at a field of straw (stalks of threshed grain). This is a hidden rebus – straw is golden in colour. To the left of the bookplate at almost full height is a Garb encircled by the coronet of an English Earl (without the cap). This is to signify fealty to the Earls of Chester (during the 13th century the Overlordship's service at this time was to provide a knight for 40 days to the garrison at Chester Castle) and is the badge/logo I adopted many years ago for my Cheshire Heraldry website. Leaning against the garb (on the left) is the Goldstraw shield and hanging from the top visible corner of the shield is the neck ribbon and cross of a Knight "jure sanguinis" of the Sacred Military Constantinian Order of St. George. The rest is, I believe, self explanatory.

My thanks to Ljubodrag.
ARMORIAL BLAZON
Blazon:
Arms: Argent on a Chevron between three Swords erect Gules three Quills erect Argent
Crest: On a Helm with a Wreath Argent and Gules A Goose Argent beaked Or resting its dexter foot against an Oak Tree Gules fructed Or
Motto: Iure Factum Non Erit Irritum (A legally valid will shall not be voided but paraphrased as "Where there's a will there's a way")
The Scottish Arms are identical in blazon in all respects EXCEPT the motto; In the Scottish matriculation the motto is above the helm and crest and is "AB INITIO GOOSTREY".)
Please note: There is no such thing as a "family" Coat of Arms.
All achievements belong to the original grantee and heirs in accord with the Letters Patent of the Grant/Matriculation. It is in order to display an achievement which does not belong to you as long as you do not pass it off as your own, or give the impression that it is your own.